Below you can see Tradelink's state of the art spinning mill where cotton yarn of various tex counts are spun.

The group's knitting factory where single jersey cotton fabric is knitted on machines producing body size, seamless tubular knit fabric as well as wide width fabric.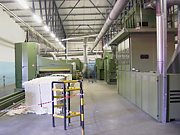 The blow room where cotton lint is prepared for further processing.
Photograph showing a part of the knitting operation. Several machines are in use that knit body size fabric (without side seams).

Tradelink's dye house and finishing plant where fabric is dyed to SABS standards for colour fastness and fabric is pre-shrunk to ensure stability. The company also offers a commission dyeing service from this facility and is currently dyeing and finishing fabric for several leading clothing manufacturers.

A birds eye view of some of the dyeing machines used in the dye house.
One of the fabric finishing lines which ensures quality finishing of fabric to customers' specifications.

CMT operations where garments are manufactured according to the highest standards.

The state of the art Bierrebi automatic cutting machine employed by the group.

Some of the assembly lines in action.